PRICES AND SIZES

Prices and sizes listed below are guidelines only for similar terrariums and Wardian cases. Each piece is available in customers own size and colour choice and priced accordingly.
Black is the default patina, copper & silver as an alternative.

Wood plinths are available for all pieces, although only necessary for pieces with no integral
glass bases, eg. Old Postbox, or bigger pieces. Plinths start at £15 for plain softwood
and range to solid hardwood .
Pieces such as the Towers can be constructed in lead and puttied for all year round outside use.
An outside Tower 75cm high and 55cm wide would be appx. £800
Delivery extra.
All pieces can be collected from Bexley, Kent and Greenwich market (seasonal).

Many thanks to Serge Tasic at Red Sun Bonsai for the loan of the Bonsai
in our displays.








OLD POSTBOX

90h 45w

£475

Hardwood base incl.




CRYSTAL PALACE

50w 50d 65h

£925






PLAIN VICTORIAN

70h 29w

£425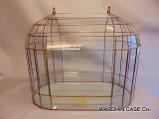 DOME ENDED CASE

50w 25d 45h

£485

A FLASH OF BLUE
70h 30w
£425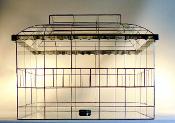 GRANDES SERRE
55w x 35d

£685